---
The Broader Markets
Last Week – SPY finished last week inside its expected move, up 0.5% vs the 0.7% options were pricing. However, markets moved lower Thursday before a rally to end the week. That move lower briefly took options implied volatility higher.
This Week – SPY options are pricing about a 1% move (in either direction) for the upcoming week. That corresponds to about $431 as a bearish consensus and $440 as a bullish consensus.
Implied Volatility – The VIX was slightly higher on the week closing above 16. That was lower than the levels above 20 it saw Thursday morning.
Looking out on the VIX futures curve, December VIX futures are about 22.5. Near-term options remain compressed, while expectations of future volatility (and therefore latter month option prices) are trading higher.
Those looking for near-term hedges will find options prices on the inexpensive side historically, and the least expensive in over a year. Those implementing short premium strategies near term (covered calls and iron condors, credit put/call spreads etc.) will find the premiums (or ranges that they are selling) tighter than they have been in over a year.
Expected Moves for This Week via Options AI:
SPY 1%
QQQ 1.5%
IWM 1.8%
DIA 1.2%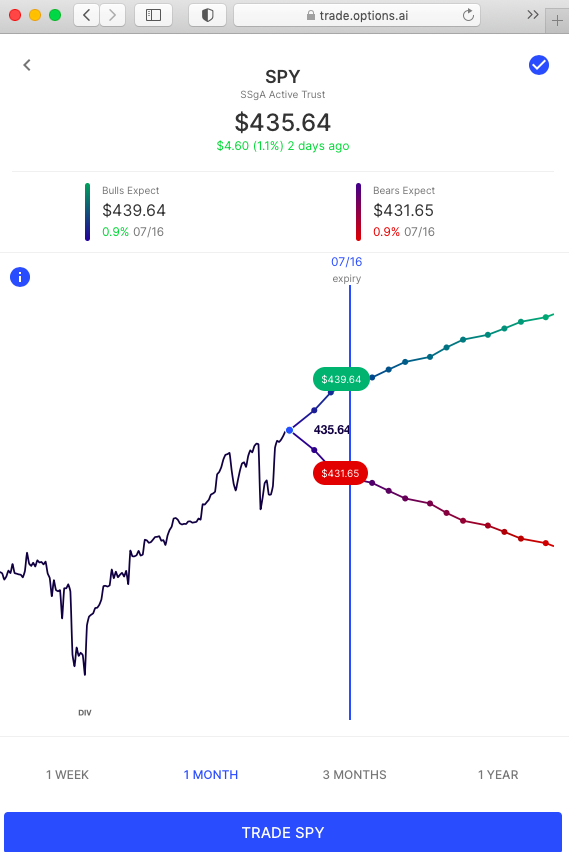 ---
In the News
The Virgin Galactic flight with Richard Branson went off successfully. SPCE options are pricing about a 22% move for this week.
There was a lot of attention paid to Tesla TSLA chart technicals and momentum last week. Here's how the options market is pricing TSLA, with a one week expected move of more than 4% and a one month expected move (that includes earnings) of about 12%:
---
Expected Moves for Companies Reporting Earnings
Earnings season begins with some of the major financial institutions kicking off things this week. Big tech reports later in the month.
The Options AI Earnings Calendar is a free resource to keep up to date on upcoming earnings, how options are pricing potential moves, and how that compares to actual moves from prior earnings (starting with most recent).
Options AI puts the expected move at the heart of its trading experience. Traders are able to quickly generate trades based on the move, or to place their own price target in context of the expected move. More education on expected moves and spread trading can be found at Learn / Options AI.
Tuesday
JP Morgan JPM / Expected Move: 2.5% / Recent moves: -2%, -2%, -2%
Goldman Sachs GS / Expected Move: 3.1% / Recent moves: +2%, -2%, 0%
Wednesday
Bank of America BAC / Expected Move: 3.2% / Recent moves: -3%, -1%, -5%
Wells Fargo WFC / Expected Move: 3.9% / Recent moves: +6%, -8%, -6%
Citigroup C / Expected Move: 3.2% / Recent moves: -1%, -7%, -2%
Blackrock BLK / Expected Move: 2.8% / Recent moves: +2%, -5%, +4%
Delta Air DAL / Expected Move: 4.1% / Recent moves: -3%, +2%, -3%
Infosys INFY / Expected Move: 3.8% / Recent moves: +4%, -1%, -7%
Thursday
Taiwan Semi TSM / Expected Move: 3.2% / Recent moves: -2%, +6%, -1%
United Health UNH / Expected Move: 2.5% / Recent moves: +4%, 0%, -3%
Morgan Stanley MS / Expected Move: 3.1% / Recent moves: -3%, 0%, +1%,
Charles Schwab SCHW / Expected Move: 4% / Recent moves: -3%, +1%, +5%
---
Based upon publicly available information derived from option prices at the time of publishing. Intended for informational and educational purposes only and is not any form of recommendation of a particular security, strategy or to open a brokerage account. Options price data and past performance data should not be construed as being indicative of future results and do not guarantee future results or returns. Options involve risk, including exposing investors to potentially significant losses and are therefore not suitable for all investors. Option spreads involve additional risks that should be fully understood prior to investing. Securities trading is offered through Options AI Financial, LLC a registered broker-dealer.