---
Market View
Last Week – A Rally to Start 2023, Powered by NFP
SPY closed 1.5% higher for the first trading week of 2023, largely on the back of Friday's positive market reaction to employment and wage data. The VIX is now near 21, down slightly on the week. But options for this week are comparatively high, more on that in a second.
This Week – Options expecting movement for CPI, Earnings Season Gets Real with the Banks.
SPY options are pricing a 2.2% move for this week. The primary uncertainty for the markets this week is the CPI release, which will arrive pre-market Thursday morning. The SPY expected move chart via Options AI shows low IV into the release and the majority of this week's expected move and an IV spike for Thursday: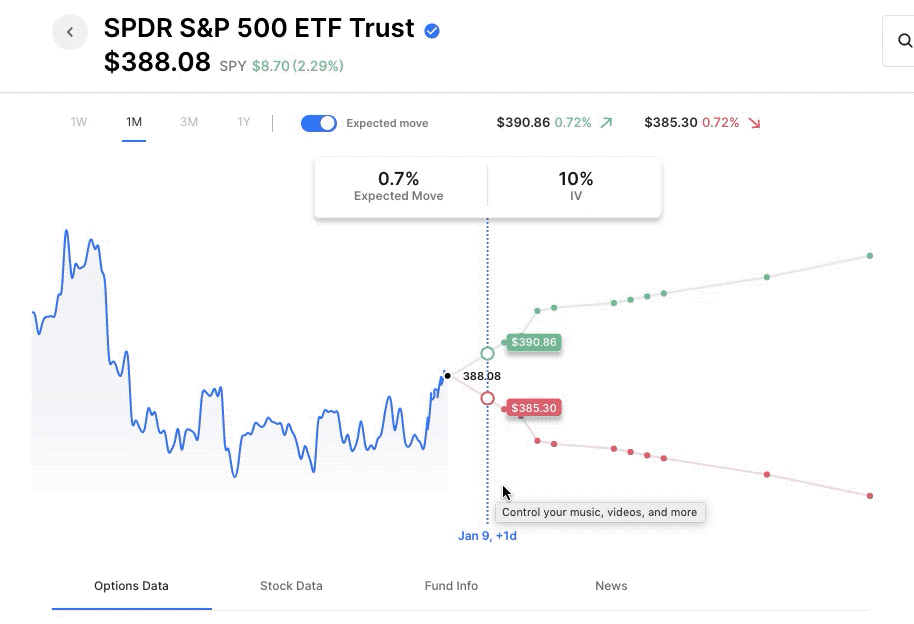 Earnings season also kicks off in earnest this week with Bank of America, JP Morgan and Wells Fargo all reporting Friday morning.
---
Expected Moves for This Week (via Options AI free tools)
SPY 2.2%
QQQ 2.8%
IWM 2.5%
DIA 1.9%
---
Economic Calendar
Thursday – CPI, Initial Jobless Claims
Friday – UofM Consumer Sentiment, Consumer Inflation Expectations
---
High Options Volume Friday (compared to 30 day averages)
GE, BIIB, ORCL, M, JWN, COST, ET, TSLA, MSTR, BA, TQQQ, SPY
---
Earnings This Week
Via the Options AI Earnings Calendar. Expected move, weekly IV, and prior earnings moves (starting with most recent).
Monday
Tilray TLRY / Expected Move: 11.1% / IV 107 / Prior moves: -19%, +12%, +3%, +14%
Thursday
Taiwan Semi TSM / Expected Move: 4.9% / IV 48 / Prior moves: +4%, +3%, -3%, +5%
Friday
Bank of America BAC / Expected Move: 4.0% / IV 40 / Recent moves: +6%, 0%, +3%, 0%
JP Morgan JPM / Expected Move: 3.4% / IV 33 / Recent moves: +2%, -3%, -3%, -6%
Wells Fargo WFC / Expected Move: 4.3% / IV 43 / Recent moves: +2%, +6%, -5%, +4%
Citi C / Expected Move: 4.6% / IV 45 / Recent moves: +1%, +13%, +2%, -1%
United Health UNH / Expected Move: 2.8% / IV 28 / Recent moves: +1%, +5%, 0%, 0%
---
Based upon publicly available information derived from option prices at the time of publishing. Intended for informational and educational purposes only and is not any form of recommendation of a particular security, strategy or to open a brokerage account. Options price data and past performance data should not be construed as being indicative of future results and do not guarantee future results or returns. Options involve risk, including exposing investors to potentially significant losses and are therefore not suitable for all investors. Option spreads involve additional risks that should be fully understood prior to investing. Securities trading is offered through Options AI Financial, LLC, member FINRA and SIPC.