---
The Broader Markets
Last Week – SPY finished the week inside its expected move, up less than a half a percent vs the 1% move options were pricing. The VIX was down on the week and closed on Friday at 15.65, its lowest level since pre-pandemic.
This Week – SPY options are pricing about a 1% move (in either direction) for the upcoming week. That corresponds to about $420 as a bearish consensus and $429 as a bullish consensus.
Expected Moves for This Week via Options AI:
SPY 1% (same as last week)
QQQ 1.3% (slightly less than last week)
IWM 1.6% (same as last week)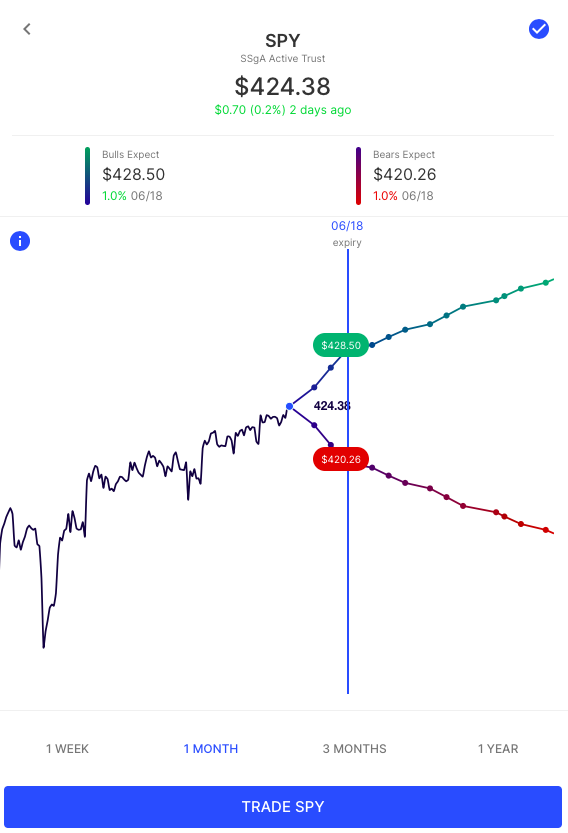 ---
In the News
Most of the meme stocks finished lower on the week. Options premium tends to spike when the stocks are squeezing higher and compress when the stocks have down days, or begin to go in either direction day to day. This is a dynamic traders should be watchful of when positioning directionally. It is not uncommon for out fo the money puts to lose money on down days in the stock, if vol is compressing. Expected moves for this week, and a comparison to what options were pricing last week.
AMC AMC 25% (was 40% last week)
Gamestop GME 17% (was 21% last week)
Blackberry BB 11% (was 24% last week)
Bed Bath and Beyond BBBY 10% (was 12% last week)
Virgin Galactic SPCE 9% (was 10% last week)
Clover Health CLOV 20% (was 35% last week)
Expected Moves for Companies Reporting Earnings
Earnings this week include Adobe, Oracle, Hexo and more.
The Options AI Earnings Calendar is a free resource to keep up to date on upcoming earnings, how options are pricing potential moves, and how that compares to actual moves from prior earnings (starting with most recent). Here is a look at this week's charts (links go to the Options AI Calendar / Expected move page):
---
MONDAY
HEXO HEXO / Expected Move: 10.5% / Recent moves: -7%, +1%, -16%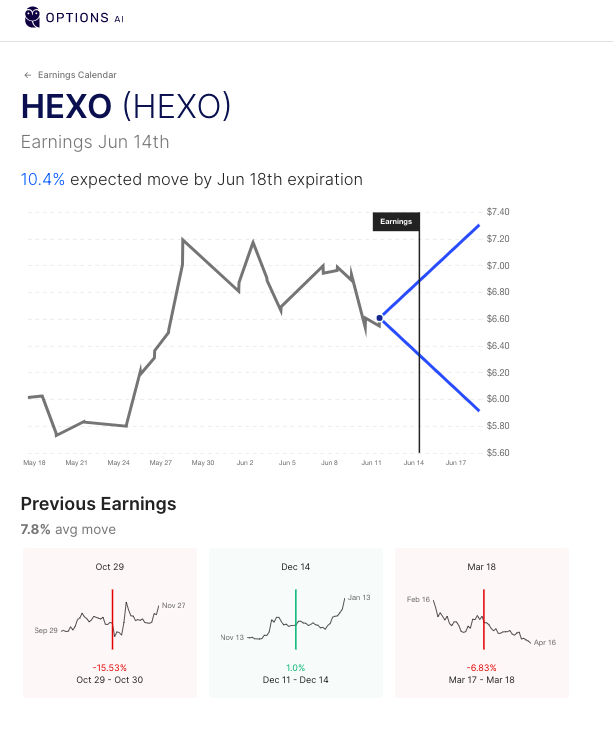 TUESDAY
Oracle ORCL / Expected Move: 4% / Recent moves: -7%, +2%, -1%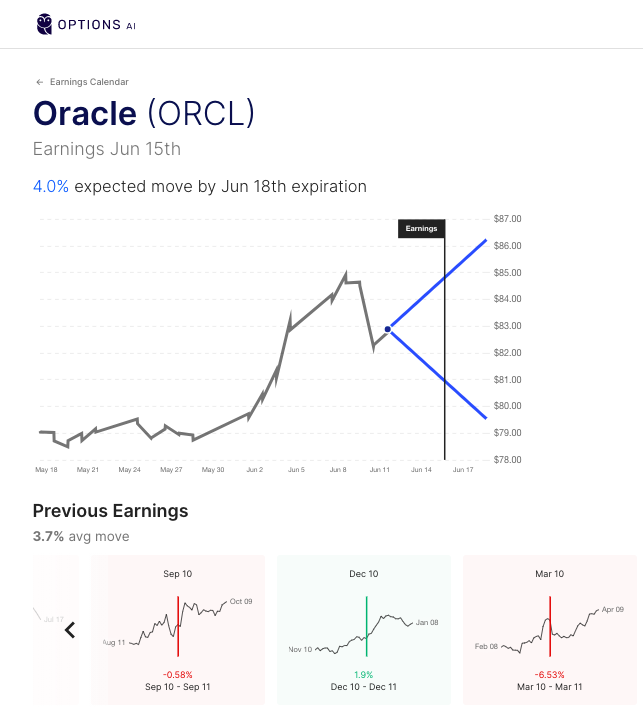 ---
Lennar LEN / Expected Move: 4.5% / Recent moves: +14%, +8%, -4%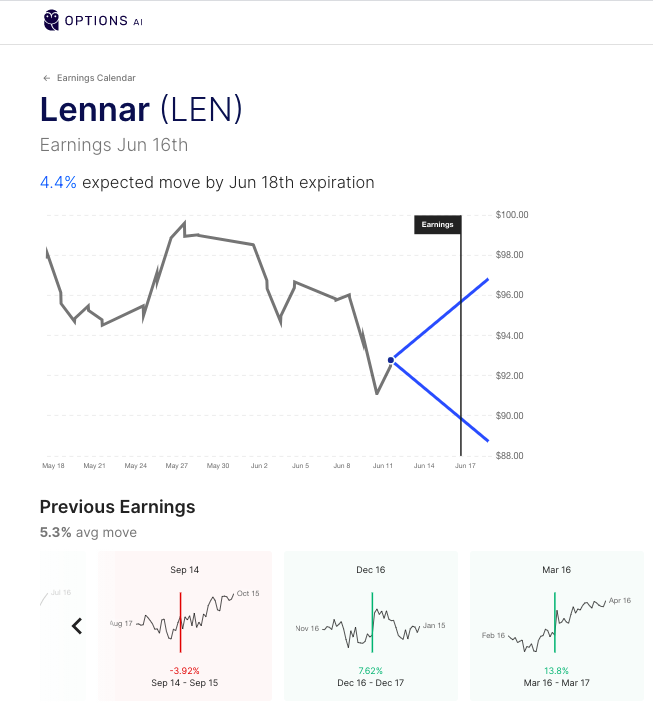 ---
THURSDAY
Adobe ADBE / Expected Move: 3.5% / Recent moves: -2%, -1%. -4%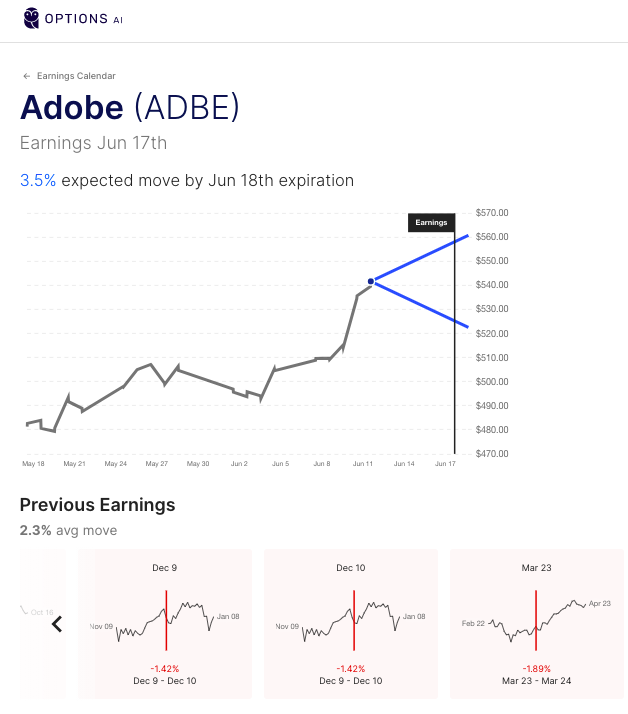 ---
Carnival CCL / Expected Move: 4% / Recent moves: +1%, -2%, -2%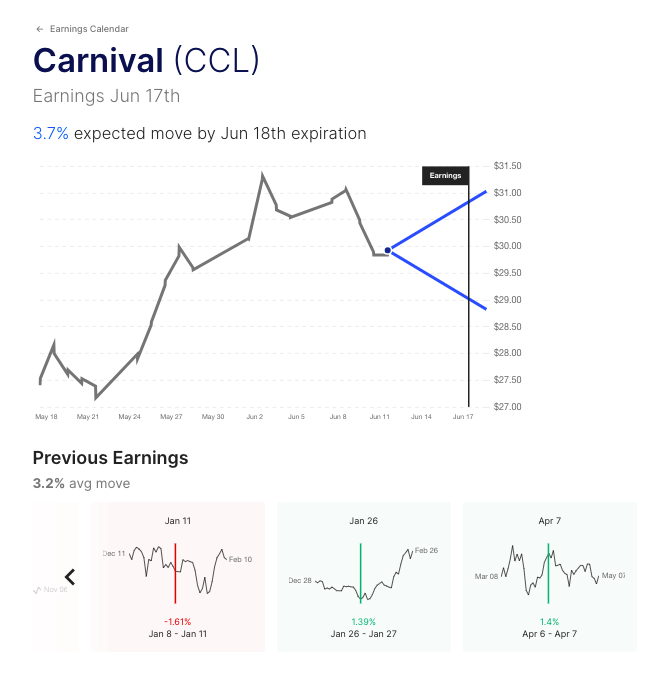 ---
Kroger KR / Expected Move: 4.5% / Recent moves: +3%, -4%, -1%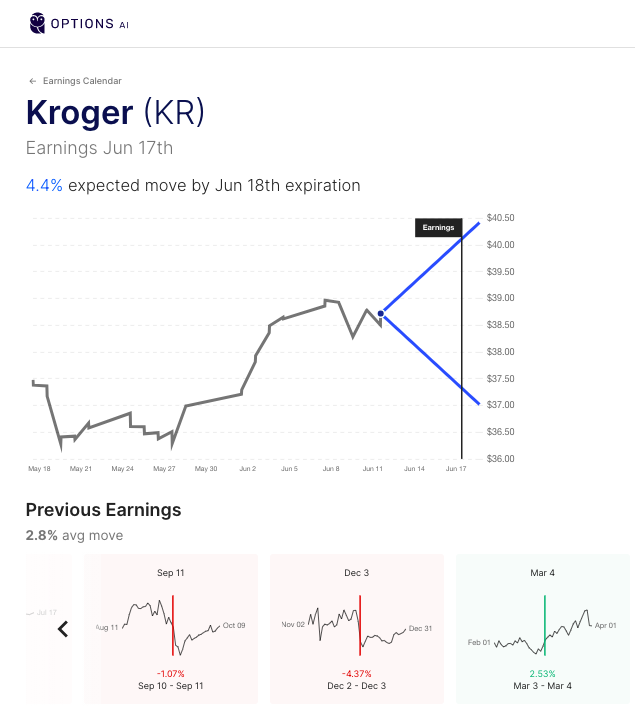 ---
Jabil JBL / Expected Move: 6% / Recent moves: +3%, +7%, +7%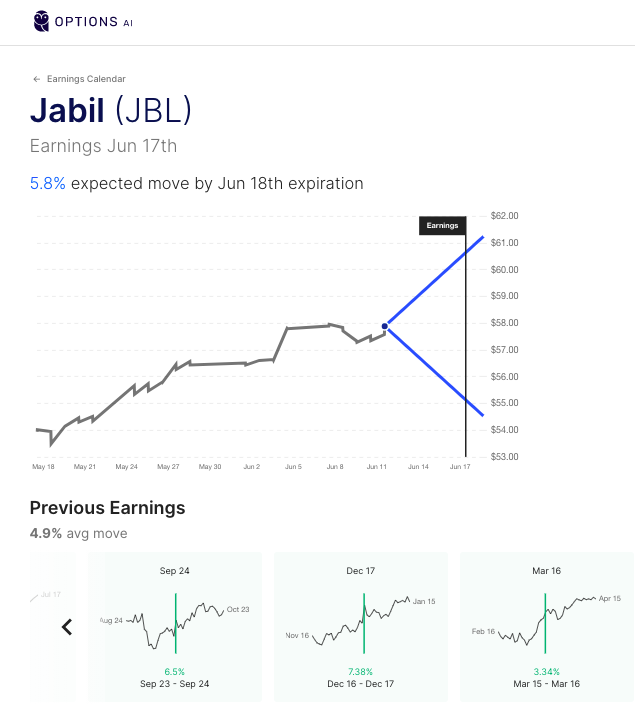 ---
Options AI puts the expected move at the heart of its trading experience. Traders are able to quickly generate trades based on the move, or to place their own price target in context of the expected move.
Here's an example of using the expected move to generate an Iron Condor that "sells the move" in AMC. The Condor looks to profit if AMC stays within its expected move. It is a max gain if the stock finishes between 37 and 63 on Friday's close. If the stock moves beyond what options are pricing, below $36 or above $64, the Condor is a max loss (with defined risk):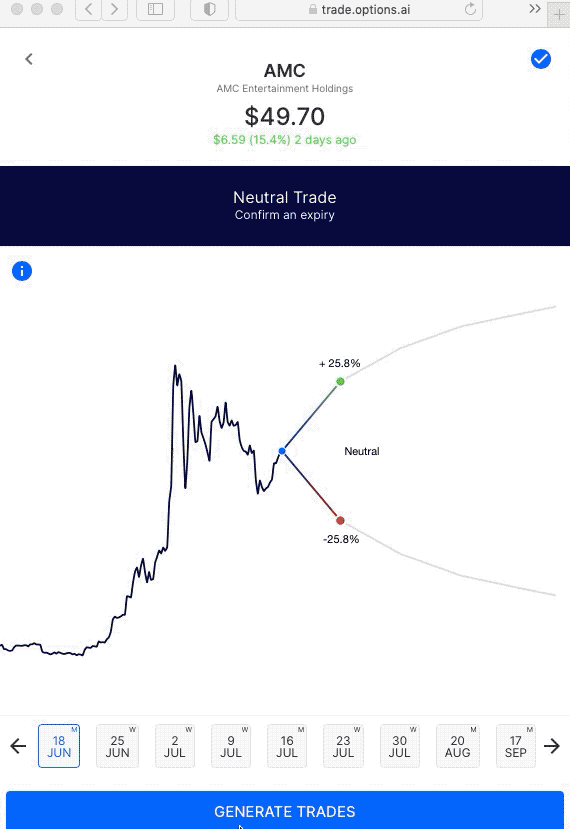 More education on expected moves and spread trading can be found at Learn / Options AI.
---
Based upon publicly available information derived from option prices at the time of publishing. Intended for informational and educational purposes only and is not any form of recommendation of a particular security, strategy or to open a brokerage account. Options price data and past performance data should not be construed as being indicative of future results and do not guarantee future results or returns. Options involve risk, including exposing investors to potentially significant losses and are therefore not suitable for all investors. Option spreads involve additional risks that should be fully understood prior to investing. Securities trading is offered through Options AI Financial, LLC a registered broker-dealer.