---
The Broader Markets
Last Week – SPY was higher by about 1.7% (or $7) last week, more than the 1% move options were pricing.
This Week – SPY options are again pricing about a 1% move (or just less than $5 in either direction) for the upcoming week. With the SPY about $468, that corresponds to just above $473 on the upside and around $463 on the downside.
Implied Volatility – The VIX ended Friday around 16.50, up slightly from the week before and up a bit to end the week from lows it saw under 15 mid week. The VIX remains below its historical average entering this week.
Expected Moves for This Week via Options AI:
Options are pricing similar market moves this week than they priced last week. Here are the expected moves for the week in the major ETFs:
SPY 1%
QQQ 1.5%
IWM 2.0%
DIA 1.1%
As an example of how the 1% expected move translates into strike selections, here's an Iron Condor with short strikes set at the expected move (based on the close Friday). It would need the ETF to finish between $463 and $472 to see Max Gain: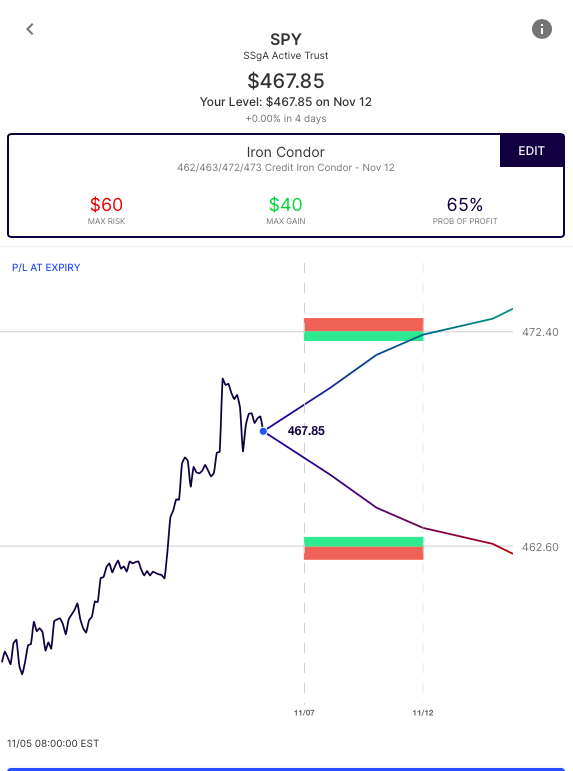 ---
In the News
Elon Musk posted a Twitter poll over the weekend asking whether he should sell 10% of his Tesla stock. He followed with a tweet saying he would abide by the poll. "Yes" won. It's unclear what would happen next, as Twitter polls are generally not considered legally binding. Tesla options are pricing about a 6% move for the upcoming week and about 12% for the remainder of November:
---
Expected Moves for Companies Reporting Earnings
Options AI puts the expected move at the heart of its trading experience. Traders are able to quickly generate credit and debit trades based on the Expected Move, or to their own targets in context of the Expected Move. More education on Expected Moves and options trading can be found at Learn / Options AI.
The expected moves below are for this Friday and link to the Options AI Calendar. Recent moves on prior earnings start with the most recent quarter.
---
Monday
Paypal PYPL / Expected Move: 6.1% / Recent moves: -6%, +2%, +7%
AMC AMC / Expected Move: 13.3% / Recent moves: -6%, +6%, +4%
Tuseday
Palantir PLTR / Expected Move: 8.4% / Recent moves: +11%, +9%, -13%
NIO NIO / Expected Move: 7.1% / Recent moves: -3%, +2%, -13%
Wynn Resorts WYNN / Expected Move: 5.3% / Recent moves: +8%, -1%, +8%
Wednesday
Disney DIS / Expected Move: 4.2% / Recent moves: +1%, -3%, -2%
SoFi SOFI / Expected Move: 10.4% / Recent moves: -14%
Beyond Meat BYND / Expected Move: 8.3% / Recent moves: +2%, -7%, +1%
---
Based upon publicly available information derived from option prices at the time of publishing. Intended for informational and educational purposes only and is not any form of recommendation of a particular security, strategy or to open a brokerage account. Options price data and past performance data should not be construed as being indicative of future results and do not guarantee future results or returns. Options involve risk, including exposing investors to potentially significant losses and are therefore not suitable for all investors. Option spreads involve additional risks that should be fully understood prior to investing. Securities trading is offered through Options AI Financial, LLC a registered broker-dealer.