---
The Broader Markets
Last Week – SPY was higher by about 0.7% vs the 1.0% expected move options were pricing.
This Week – SPY options are pricing less than a 1% move (in either direction) for the upcoming week. That corresponds to about $438 as a bearish expected move and $446 as a bullish expected move.
Implied Volatility – The VIX was lower on the week from around 18 to close Friday near 16. That is below its historical average and index/etf expected moves for the next week are tight as a result.
Expected Moves for This Week via Options AI:
SPY 0.8%
QQQ 1.1%
IWM 1.9%
DIA 1%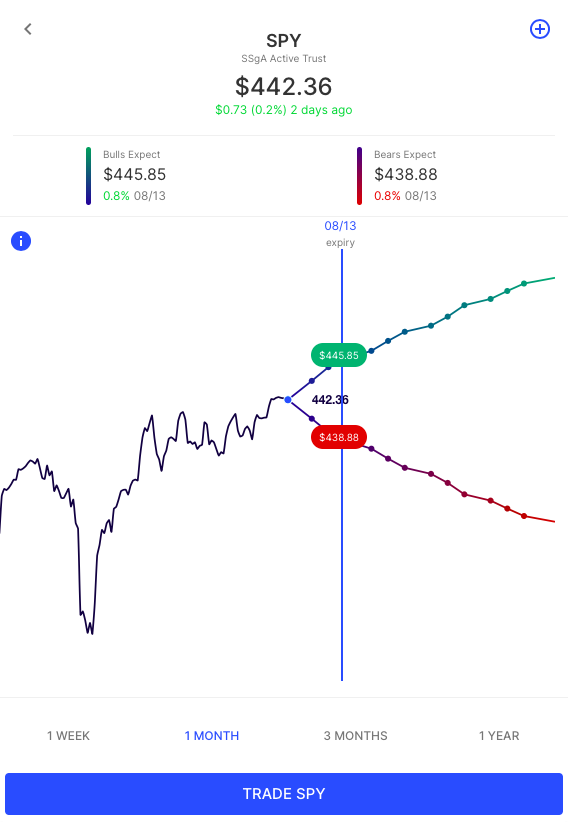 ---
In the News
Robinhood (HOOD) options were listed on Wednesday and the stock joined the ranks of the meme stocks, at least for a few days. The highest strike originally listed was $70, and initially, there were only monthly expiries. As we've seen in other meme stocks, the highest call strike becomes popular in retail, and $70 was where the stock closed on Wednesday as short gamma appeared to run out above that level. Retail buying of upside calls can create pockets of short gamma that can accentuate moves higher. Short gamma, in this case, is when market makers are net short options and have to buy stock to remain delta neutral (hedged) as the stock goes higher.
The stock finished the week at $55. Weekly options and higher strikes have now been added (as high as $170). The $70 strike, August 20th remains the strike with the most open interest as of now.
Skew to the upside is sharp, with the 55 calls expiring this week around 155 IV, while the 75 calls are around 205 IV. The expected move for this week is about 15%: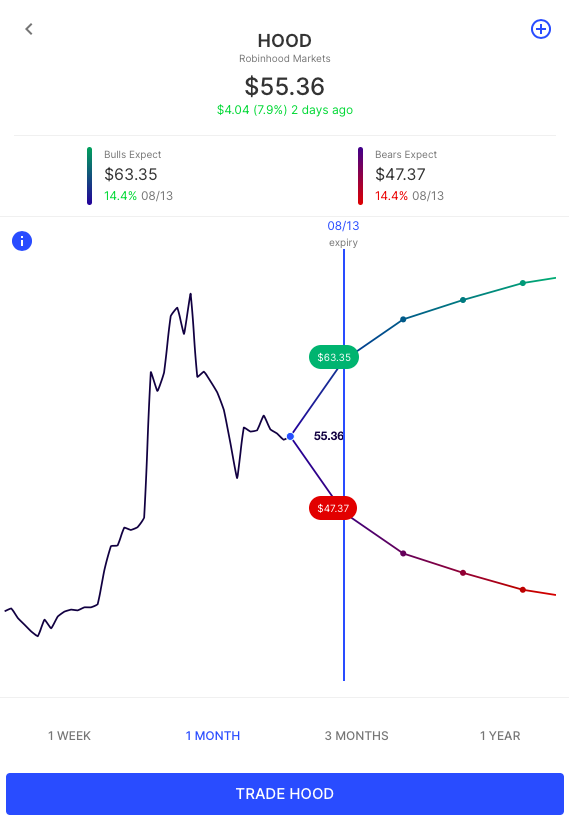 ---
Expected Moves for Companies Reporting Earnings
The Options AI Earnings Calendar is a free resource to keep up to date on upcoming earnings, how options are pricing potential moves, and how that compares to actual moves from prior earnings (starting with most recent).
Options AI puts the expected move at the heart of its trading experience. Traders are able to quickly generate trades based on the move, or to place their own price target in context of the expected move. More education on expected moves and spread trading can be found at Learn / Options AI.
Some earnings of note this week include Palantir, AMC, Disney, and Coinbase.
---
Monday
Trade Desk TTD / Expected Move: 8.6% / Recent moves: -26%, +7%, +27%
Workhorse WKHS / Expected Move: 12% / Recent moves: -2%, -8%, -3%
AMC AMC / Expected Move: 15% / Recent moves: +6%, +4%, +9%
Tuesday
Fubo TV FUBO / Expected Move: 12.7% / Recent moves: +10%, -19%, +2%
Coinbase COIN / Expected Move: 8.4% / Recent moves: -3%
Wednesday
NIO NIO / Expected Move: 7.6% / Recent moves: +2%, -13%, -3%
Ebay EBAY / Expected Move: 5.2% / Recent moves: -10%, +5%, -7%
Thursday
Palantir PLTR / Expected Move: 7.6% / Recent moves: +9%, -13%, +8%
Baidu BIDU / Expected Move: 5% / Recent moves: 0%, -3%, -3%
Disney DIS / Expected Move: 3.3% / Recent moves: -3%, -2%, +2%
Rocket RKT / Expected Move: 7.1% / Recent moves: -17%, +10%, -3%
---
Based upon publicly available information derived from option prices at the time of publishing. Intended for informational and educational purposes only and is not any form of recommendation of a particular security, strategy or to open a brokerage account. Options price data and past performance data should not be construed as being indicative of future results and do not guarantee future results or returns. Options involve risk, including exposing investors to potentially significant losses and are therefore not suitable for all investors. Option spreads involve additional risks that should be fully understood prior to investing. Securities trading is offered through Options AI Financial, LLC a registered broker-dealer.