Our latest release includes new Edit Trade functionality, allowing for more flexibility and speed in strike selection and trade customization.
Individual strike metrics: delta, IV, open interest, bid/ask, size, volume
Faster, scrollable strike selector with expected move indicators.
Access begins where it always has, selecting Edit from the trade summary:
---
Faster Strike Selection
Here's a look at some of the new functionality. The ability to move multiple strikes or an entire Spread higher or lower using the Move All buttons. Or, select an individual strike to use a new strike selection drawer: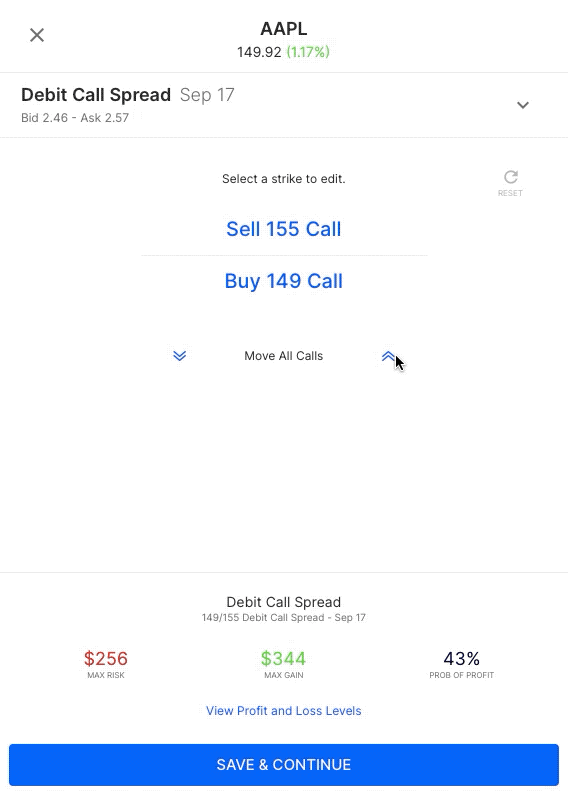 This not only allows for faster customization and overall flexibility, but reveals the selected strike's metrics to help with selection.
---
More information when it's needed
Reveal individual strike metrics of the trade (by selecting the dropdown) as well as see the risk/reward, breakeven levels and more by selecting View Profit and Loss Levels before proceeding:
The individual strike metrics include implied volatility and delta of the individual strikes. That can help with strike selection. It also shows volume on the day, open interest, and current bid/ask size of the individual legs, which can help with spread limit prices as well as getting a sense of liquidity for entry, and eventually exit.
If at any time you want to start over, the Reset button will take you back to the original strikes: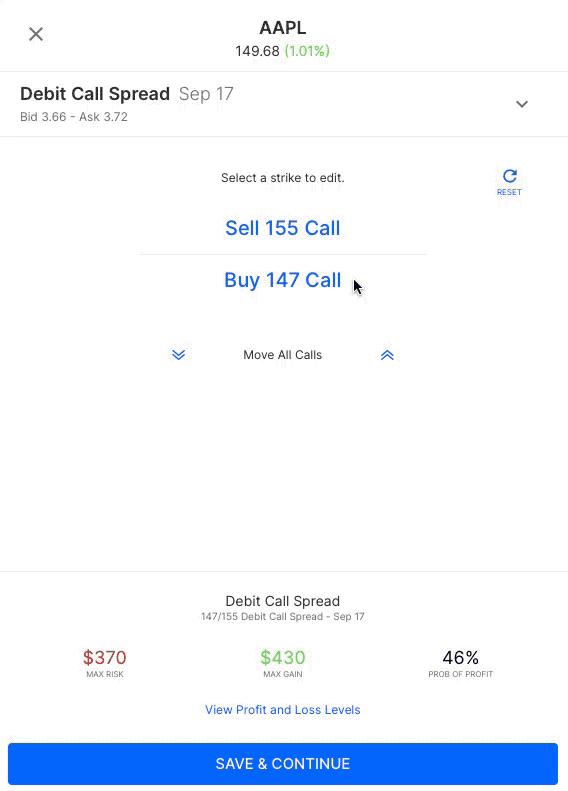 This new functionality is the first phase of an overall more flexible and powerful Options AI. Coming soon is a new Custom Trade function and an entirely unique Trading from a Chart feature. As with everything on Options AI, our focus is on delivering simplicity on the surface, with sophistication beneath.
The new strike selection functionality was a direct result of suggestions by our users. We appreciate everyone's involvement in the process. If you have not, feel free to reach out to the team with feedback and suggestions for future functionality.
---
Go Commission Free on Options AI
Do you like Options AI? Do you like commission-free trading? Use the referral link to share Options AI with others and get free commissions when they open and fund accounts. Find your unique referral code at the bottom of the main menu, shown here (Go Commission Free):