---
The Broader Markets
Last Week – SPY was down by about 4% at one point during the week but closed the week lower by only about 1.5% vs the 1% move options were pricing. The VIX closed at 18.80, but was as high as 28 during the week.
This Week – SPY options are pricing a 1.5% move (in either direction) for the upcoming week. That corresponds to about $411 as a bearish consensus and $423 as a bullish consensus.
Expected Moves for This Week via Options AI: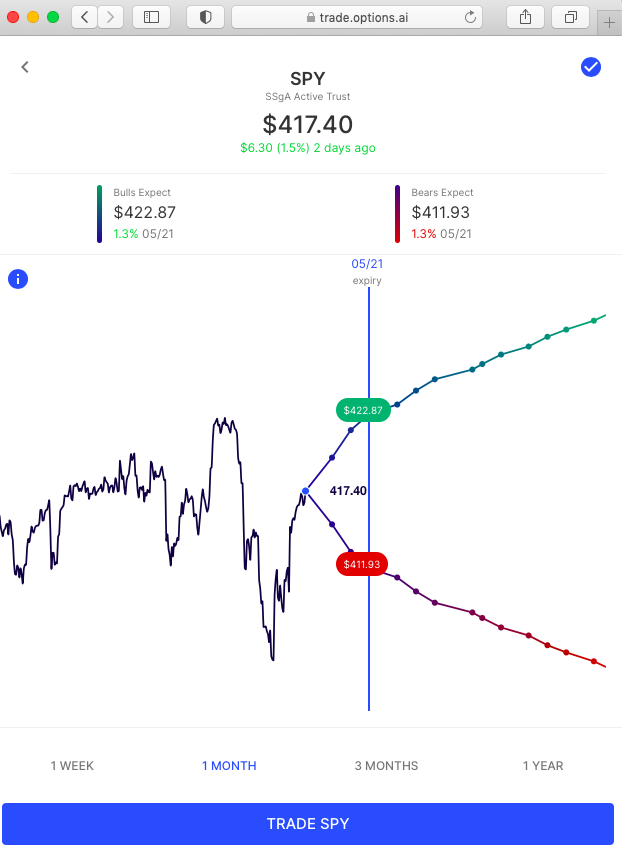 ---
In the News
Crypto currencies are seeing wild swings amidst wild headlines. (Like Elon Musk announcing Tesla will no longer accept bitcoin.). Below is a comparison of expected moves of some of the more noteworthy publicly traded crypto focused names, Coinbase, Riot Blockhcain and Marathon Digital via the Options AI Expected Move calculator: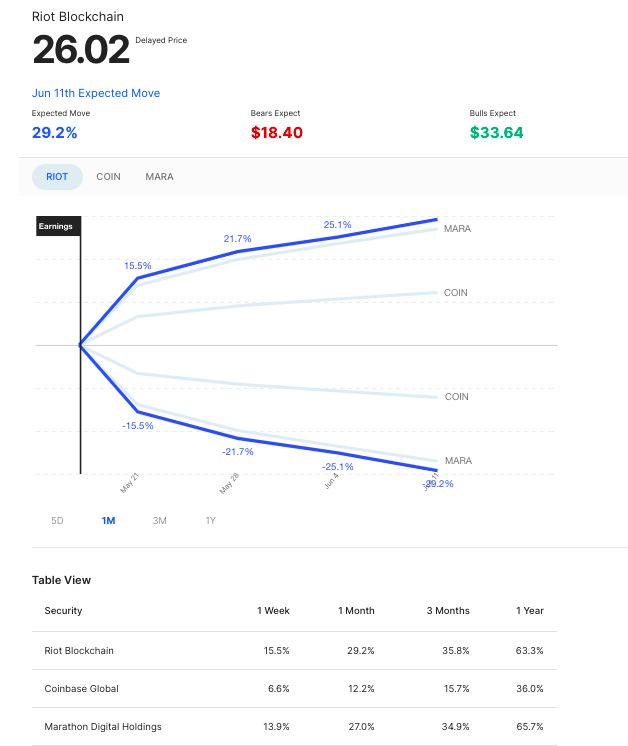 And here's Tesla, which has also been moving on Musk's announcements: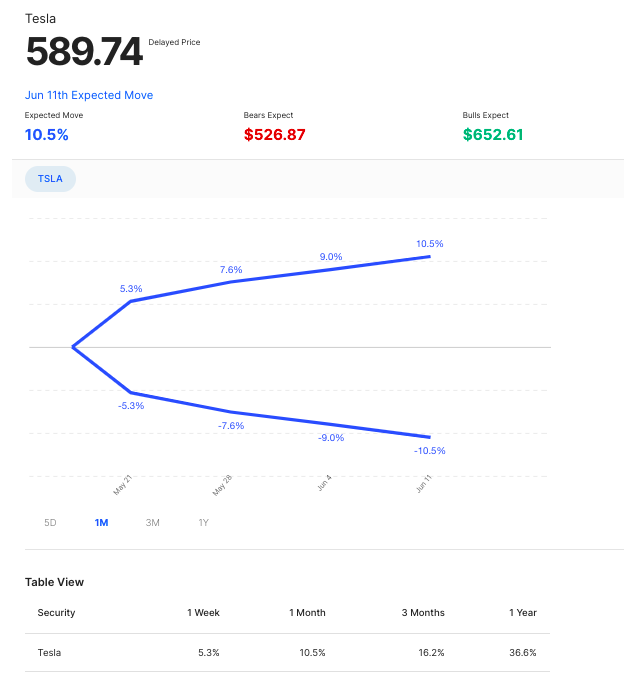 Expected Moves for Companies Reporting Earnings
Earnings season continues with reports from box store retailers Walmart, Target and Home Depot, China stocks Baidu and JD as well as tech names Cisco and Applied Materials.
The Options AI Earnings Calendar is a free resource to keep up to date on upcoming earnings, how options are pricing potential moves, and how that compares to actual moves from prior earnings (starting with most recent). Here is a look for at this week (links go to the Options AI Calendar / Expected move page):
---
MONDAY
Tencent TME / Expected Move: 8% / Recent moves: +3%, +2%, -1%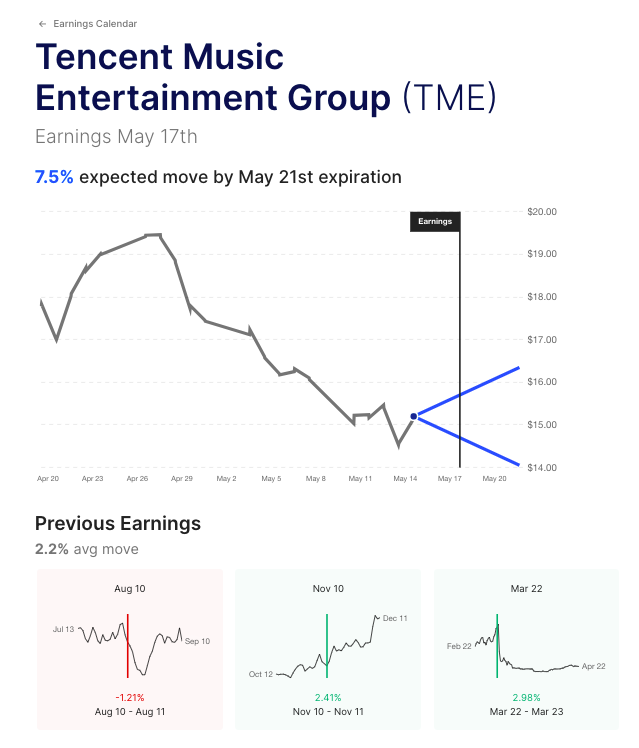 ---
TUESDAY
Walmart WMT / Expected Move: 3.5% / Recent moves: -6%, -2%, -1%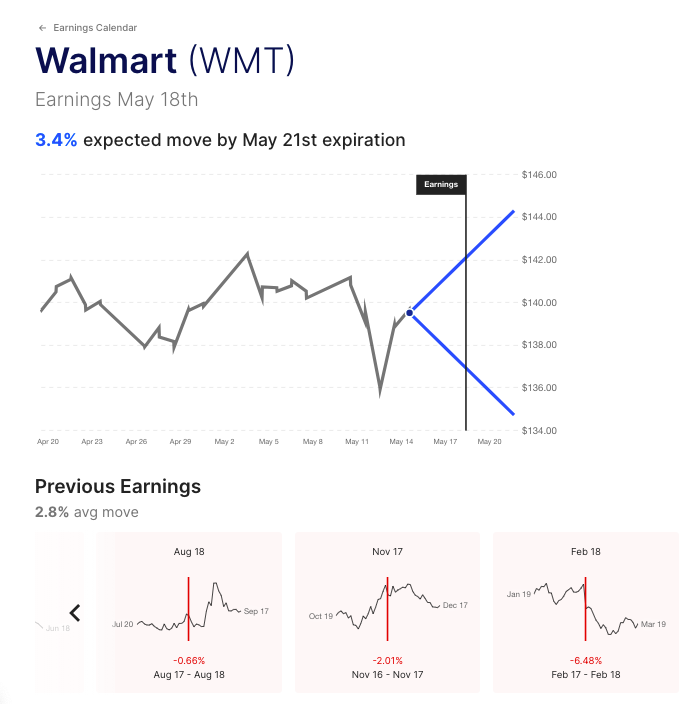 ---
Home Depot HD / Expected Move: 3% / Recent moves: -3%, -3%, -1%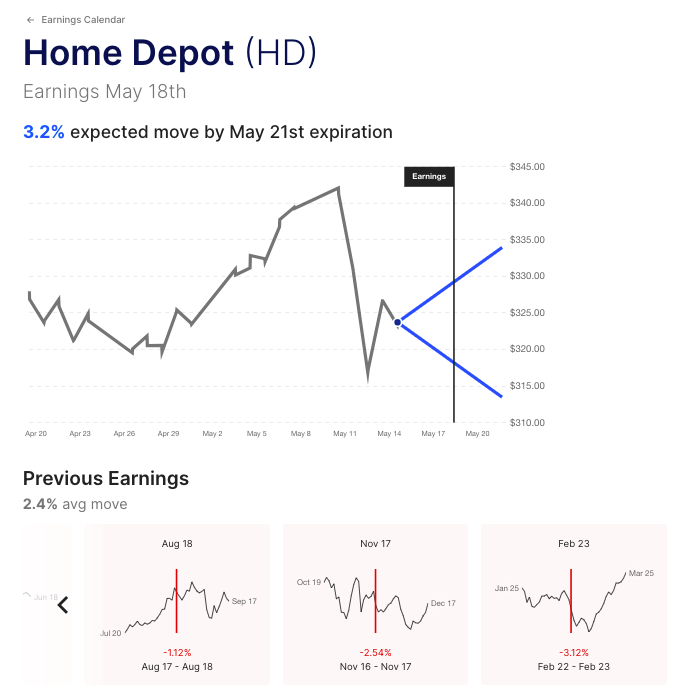 ---
Baidu BIDU / Expected Move: 7% / Recent moves: -3%, -3%. -6%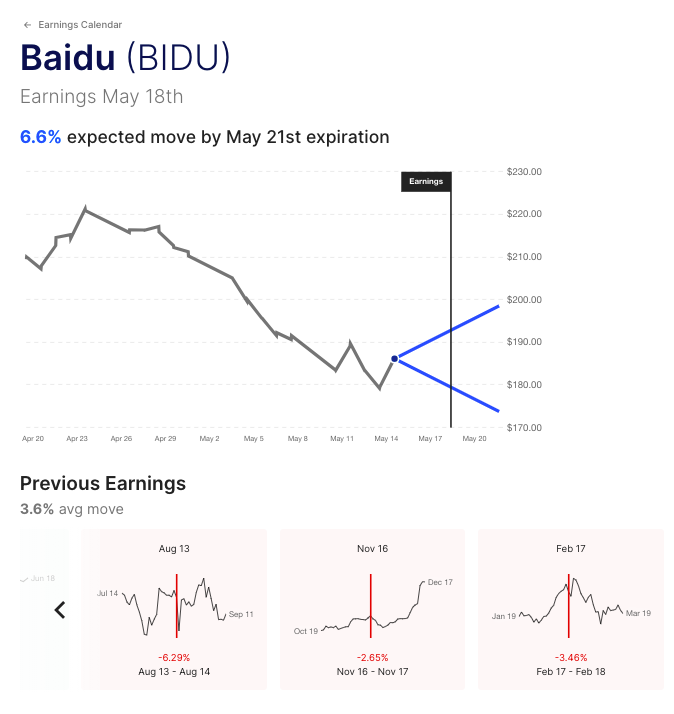 ---
WEDNESDAY
Cisco CSCO / Expected Move: 4% / Recent moves: -3%, +7%, -11%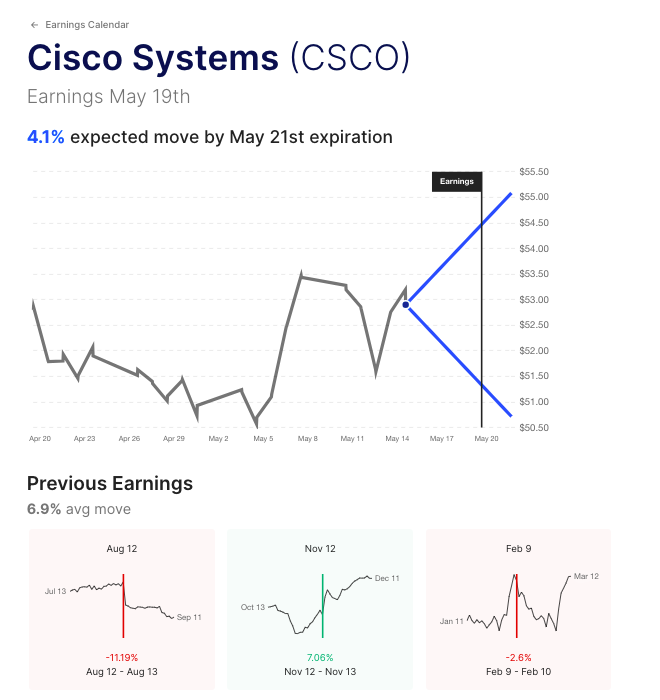 ---
Target TGT / Expected Move: 5% / Recent moves: -7%, +2%, +12%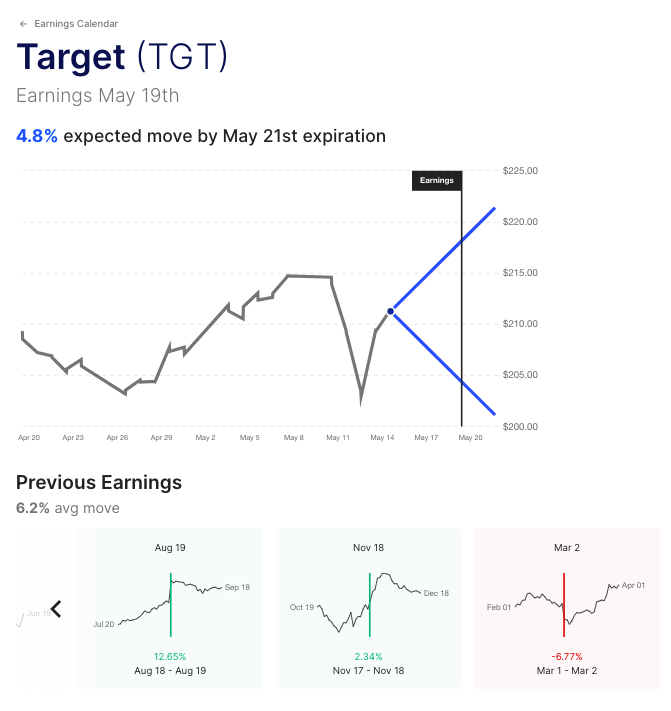 ---
JD.com JD / Expected Move: 6% / Recent moves: +1%, -7%, +8%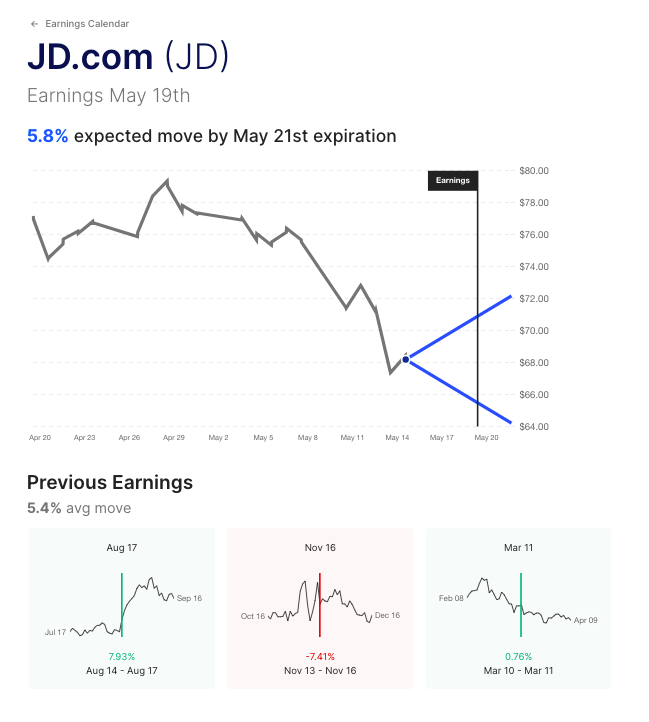 ---
THURSDAY
Applied Materials AMAT / Expected Move: 5% / Recent moves: +5%, +4%, +4%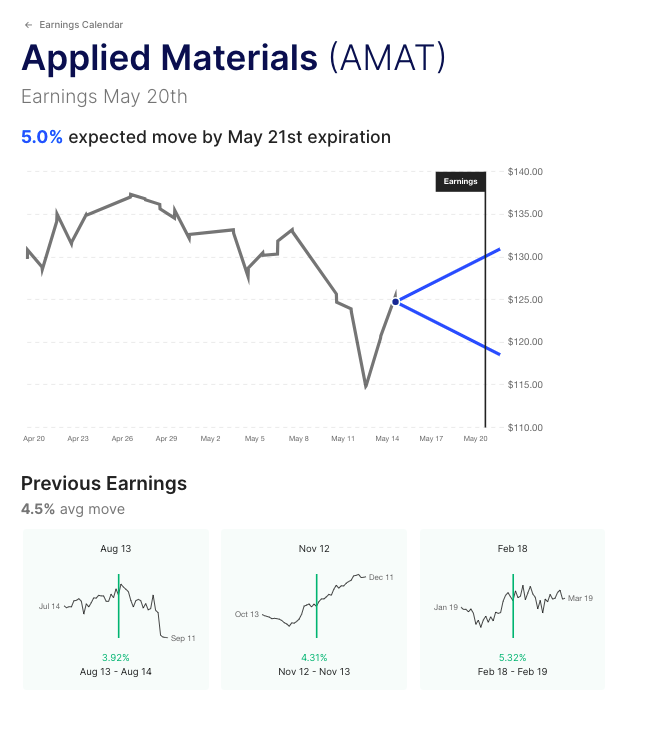 ---
Palo Alto Networks PANW / Expected Move: 6% / Recent moves: -2%, +8%, -2%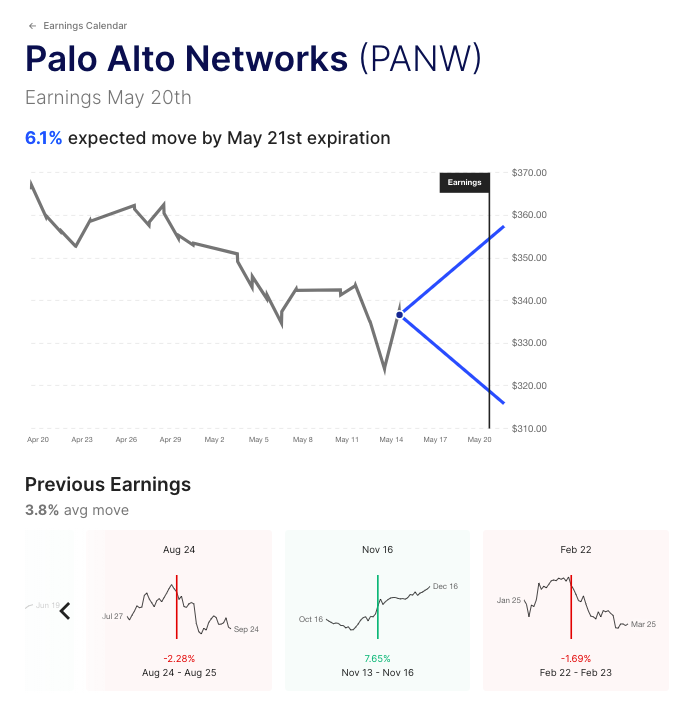 ---
FRIDAY
Deere DE / Expected Move: 4% / Recent moves: +10%, -2%, +4%
---
Options AI puts the expected move at the heart of its trading experience. Traders are able to quickly generate trades based on the move, or to place their own price target in context of the expected move. Options AI provides a couple of free tools like an expected move calculator, as well as an earnings calendar. More education on expected moves and spread trading can be found at Learn / Options AI.
---
Based upon publicly available information derived from option prices at the time of publishing. Intended for informational and educational purposes only and is not any form of recommendation of a particular security, strategy or to open a brokerage account. Options price data and past performance data should not be construed as being indicative of future results and do not guarantee future results or returns. Options involve risk, including exposing investors to potentially significant losses and are therefore not suitable for all investors. Option spreads involve additional risks that should be fully understood prior to investing. Securities trading is offered through Options AI Financial, LLC a registered broker-dealer.