---
The Broader Markets
Last Week – SPY was down about 1% last week, less than the 1.5% move options were pricing.
This Week – SPY options are again pricing about a 1.5% move (in either direction) for the upcoming week. With the SPY around $441 that corresponds to about $434 as a bearish expected move and $448 as a bullish expected move.
Futures are indicating about a 1.6% move lower in SPY pre-open.
Implied Volatility – The VIX was roughly unchanged on the week and ended Friday near 21. That means IV is slightly higher than its historical average. VIX futures remain upward sloping with December and January futures near 24. In other words, options are pricing slightly more volatility towards the end of the year than now.
The VIX is indicated to open higher than 25 pre-open.
Expected Moves for This Week via Options AI:
The major ETFs are pricing similar moves to what they priced last week:
SPY 1.5%
QQQ 1.7%
IWM 2.2%
DIA 1.6%
As an example of how the 1.5% expected move translates into strike selections, here's an Iron Condor with short strikes set at the expected move (based on the close Friday). It would need the ETF to finish between $435 and $447.50 to see Max Gain: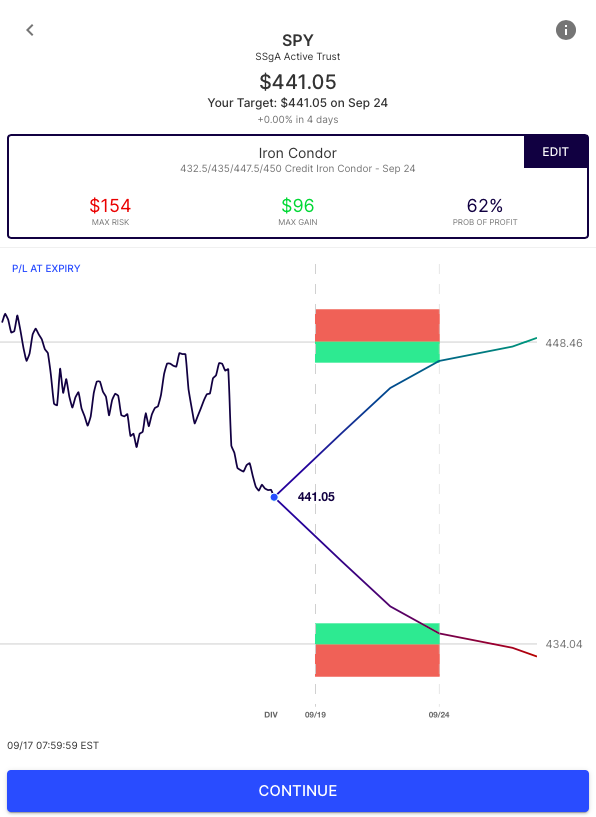 ---
In the News
Markets have been under pressure the past 2 weeks but Tesla (TSLA) stock has been moving higher, now attempting to break above its April highs of around $762. (Its ATH from January is nearly $900). With the stock now $760 options are pricing a 3% move this week but more than 10% by the end of October, a month in which the company reports earnings: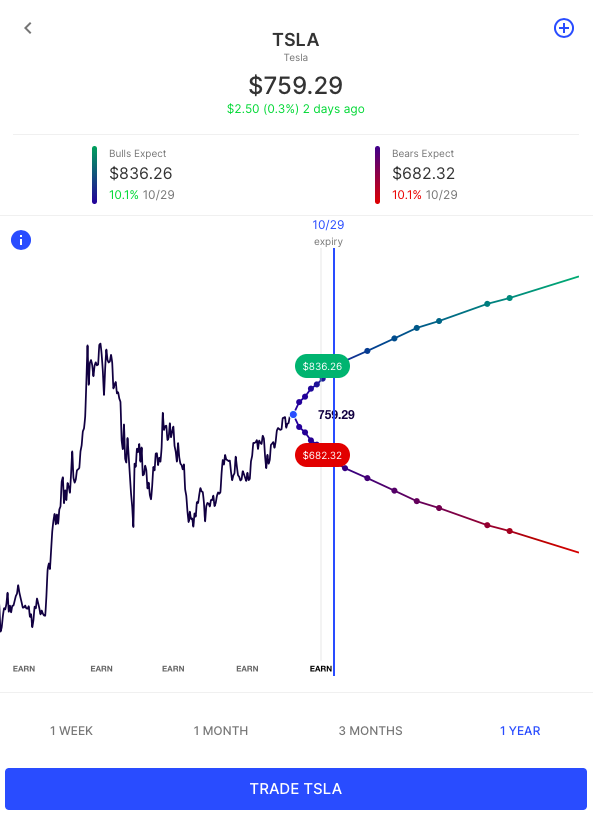 ---
Expected Moves for Companies Reporting Earnings
Options AI puts the expected move at the heart of its trading experience. Traders are able to quickly generate credit and debit trades based on the Expected Move, or to their own targets in context of the Expected Move. More education on Expected Moves and options trading can be found at Learn / Options AI.
This week, earnings from FedEx, Adobe, Blackberry, Nike, Costco and more.
---
Tuesday
Autozone AZO / Expected Move: 7% / Recent moves: -2%, +1%, -5%
FedEx FDX / Expected Move: 4.5% / Recent moves: -4%, +6%, -6%
Adobe ADBE / Expected Move: 3.8% / Recent moves: +3%, -2%, -1%
Wednesday
Blackberry BB / Expected Move: 8.7% / Recent moves: -4%, -10%, -16%
Thursday
Nike NKE / Expected Move: 5% / Recent moves: +15%, -4%, +5%
Costco COST / Expected Move: 2.5% / Recent moves: -2%, -1%, +1%
---
Based upon publicly available information derived from option prices at the time of publishing. Intended for informational and educational purposes only and is not any form of recommendation of a particular security, strategy or to open a brokerage account. Options price data and past performance data should not be construed as being indicative of future results and do not guarantee future results or returns. Options involve risk, including exposing investors to potentially significant losses and are therefore not suitable for all investors. Option spreads involve additional risks that should be fully understood prior to investing. Securities trading is offered through Options AI Financial, LLC a registered broker-dealer.