---
Meme Stocks
Meme stocks are front and center this week with wild moves (and AMC using the opportunity to offer more shares). AMC stock was lower on the share offering but has since recovered to its overnight prices. With the stock now $55 (as of writing), options are pricing a move of more than 25% by tomorrow's close. That corresponds to almost $69 and $40 in the stock: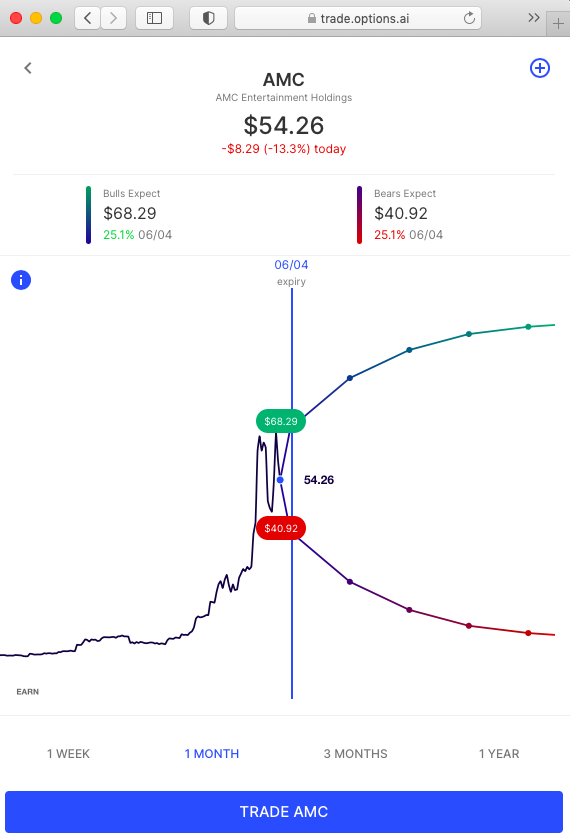 Implied volatility has spiked massively with the move higher in the stock this week. When the stock moved lower this morning, implied volatility decreased. The expected move is a one way for traders to interpret those moves in implied volatility and can help with strike selection.
Skew is a large component of call pricing in the meme stocks and can be seen in the individual legs on the Options AI ticket. For instance, here's a GME call spread for July 18th, the 65 strike is trading $23.75 and the 105 strike ($40 higher) is $17.50. Those inflated out of the money calls are a result of retail demand and make debit call spreads that buy closer to the money calls while selling out of the money calls significantly less expensive than buying either. The call spread costs about $6.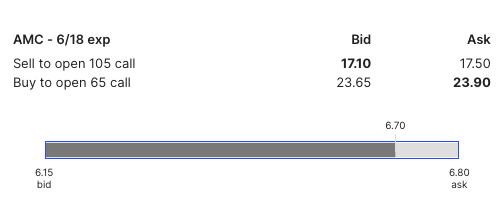 Out of the money options in such high volatility stocks don't leave much room for error and can even see losses when the direction is right. Traders should be aware of the effect of implied volatility and skew in the meme stocks.
Expected Moves for Meme Stocks into Friday via Options AI:
---
Expected Moves for Companies Reporting Earnings
The Options AI Earnings Calendar is a free resource to keep up to date on upcoming earnings, how options are pricing potential moves, and how that compares to actual moves from prior earnings (starting with most recent). Here is a look a few of the names reporting after the close (links go to the Options AI Calendar / Expected move page):
---
THURSDAY
Broadcom AVGO / Expected Move: 2.5%/ Recent moves: +1%, -1%, +3%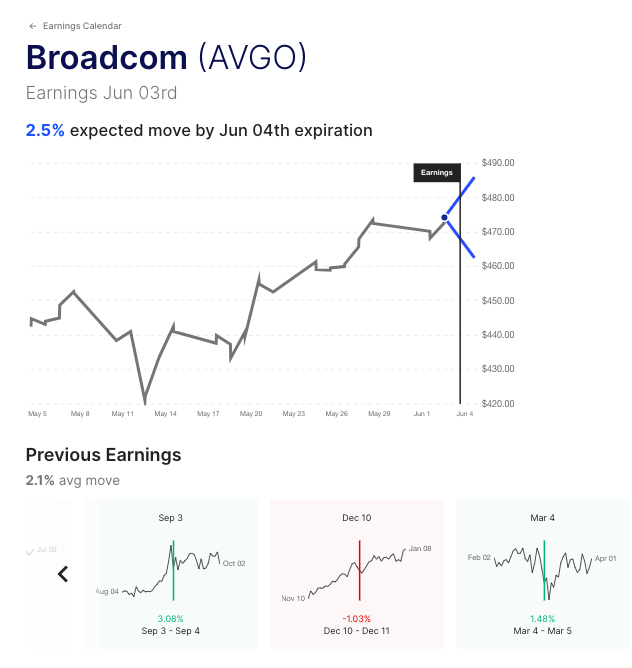 ---
Crowdstrike CRWD/ Expected Move: 5% / Recent moves: +6%, +14%, -9%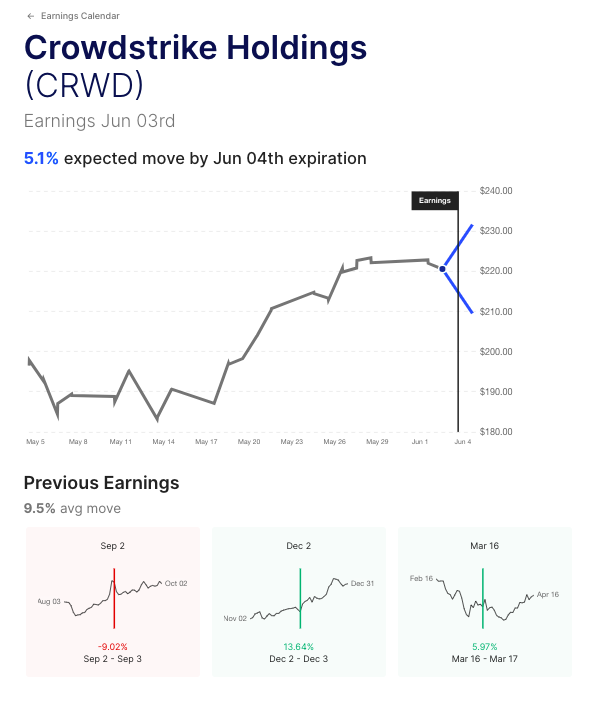 ---
Lululemon LULU / Expected Move: 4.5% / Recent moves: -3%, -7%, -7%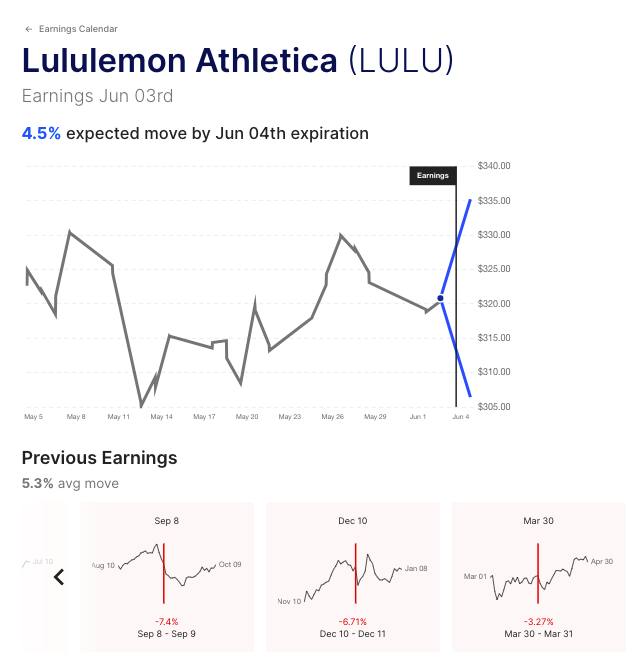 ---
Docusign DOCU / Expected Move: 4.4% / Recent moves: -7%, +5%, -11%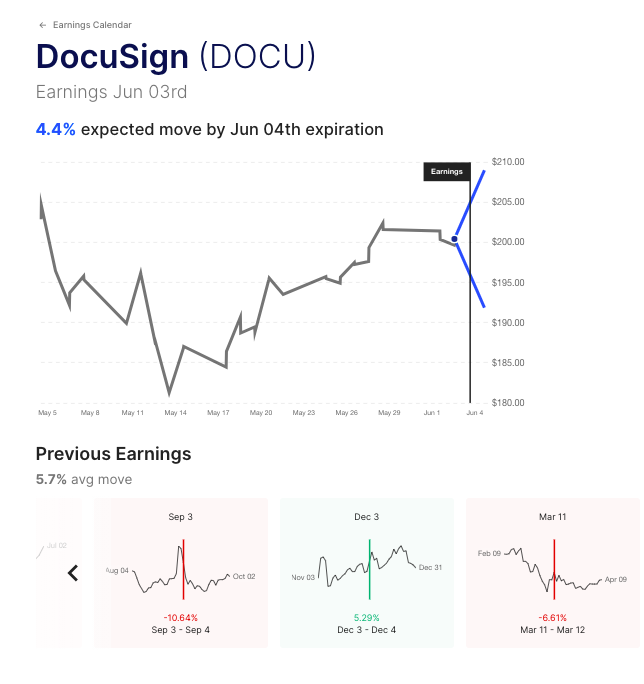 ---
Five Below FIVE / Expected Move: 5% / Recent moves: -4%, +4%, +8%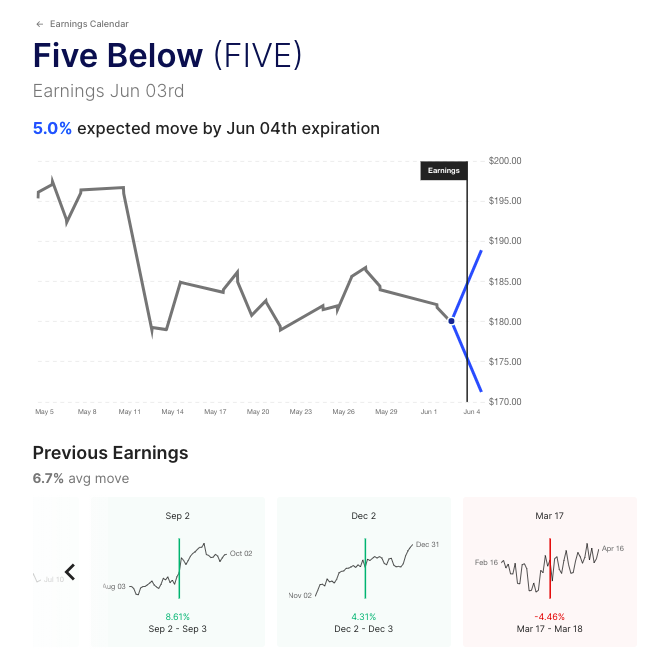 Options AI puts the expected move at the heart of its trading experience. Traders are able to quickly generate trades based on the move, or to place their own price target in context of the expected move.
More education on expected moves and spread trading can be found at Learn / Options AI.
---
Based upon publicly available information derived from option prices at the time of publishing. Intended for informational and educational purposes only and is not any form of recommendation of a particular security, strategy or to open a brokerage account. Options price data and past performance data should not be construed as being indicative of future results and do not guarantee future results or returns. Options involve risk, including exposing investors to potentially significant losses and are therefore not suitable for all investors. Option spreads involve additional risks that should be fully understood prior to investing. Securities trading is offered through Options AI Financial, LLC a registered broker-dealer.